It's not just Newstart. Single parents are $271 per fortnight worse off. Labor needs an overarching welfare review
Peter Whiteford, Crawford School of Public Policy, Australian National University; Ben Phillips, Australian National University; Bruce Bradbury, UNSW; David Stanton, Australian National University; Matthew Gray, Australian National University, and Miranda Stewart, Crawford School of Public Policy, Australian National University
Thirty years after Prime Minister Bob Hawke famously promised that by 1990 no Australian child would live in poverty, Bill Shorten has promised that, if elected, Labor will use a "root and branch review" to lift the rate of the Newstart unemployment benefit.
Two crossbenchers, Cathy McGowan and Rebekha Sharkie, want to go further.
They have introduced a private member's bill that would create an independent commission to examine the adequacy of all social security payments other than family payments and payments to veterans.
It would make recommendations, rather than set rates.
The Government opposes it. Labor has opposed such proposals in the past. Prime Minister Scott Morrison has said he would like to increase payments, but they would be ones of his choosing – he would lift the pension before lifting Newstart.
But the pension is already much higher than Newstart, and other benefits have fallen behind by more.
What's wrong with Newstart?
Newstart is inadequate and getting worse.
The Organisation for Economic Cooperation and Development raised "concerns about its adequacy" as long ago as 2010.
In a report on Australia it suggested that not only it might be insufficient to live on, it also might be insufficient to enable those on it to look for work.
The relatively low net replacement rate in the first year of the unemployment spell raises issues about its effectiveness in providing sufficient support for those experiencing a job loss, or enabling someone to look for a suitable job.
The main reason why it is inadequate is that it hasn't increased by much more than inflation since 1994. General living standards have soared during those two and a half decades, as has the pension which is linked to them by being set as proportion of male wages, and which was increased substantially in 2009.
---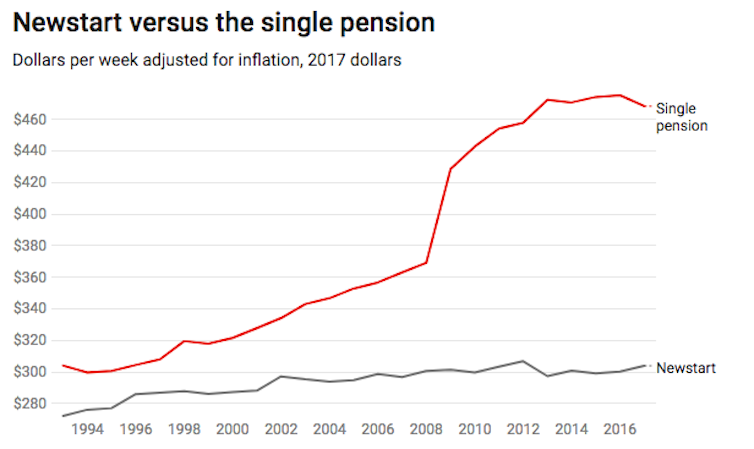 ---
Newstart is now only A$275.20 per week. The pension is A$417.20 per week (A$458.15 with the pension supplement and energy supplement).
Unless it is better indexed, Newstart will slide even further relative to other payments and living standards.
---

Read more:
New budget standards show just how inadequate the Newstart Allowance has become


---
Since 1994-95 the buying power of the median household disposable income has climbed 55%. The buying power of Newstart has barely budged.
It has pushed people on Newstart further down the income ladder.
In 1994-95 a single person on Newstart received A$24 per week less than a low-earning household at the top of the bottom tenth of the income distribution.
---

Read more:
Will a Newstart boost actually deter jobseekers?


---
By 2015-16 that single person on Newstart got A$175 per week less than the low earning household.
The Australian Council of Social Service, the Business Council of Australia and a wide range of other community and business leaders including the former prime minister John Howard and most of the parliament's crossbench have called for a lift in Newstart and a better method of setting it.
There's more to it than Newstart
The relative decline in Newstart was the result of neglect. It was left indexed to the consumer price index when, over the long term, it should have been indexed to a measure that moves with community living standards.
But in other cases, governments under five prime ministers over the past twelve years have made explicit decisions to cut assistance, most severely for low income single parents.
In 2006 the Howard government made substantial changes to the Parenting Payment Single (PPS) and the Parenting Payment – Partnered (PPP) as part of what it called a welfare to work program.
---

Read more:
How can the government justify a policy that penalises working sole parents?


---
Single parents claiming the PPS after July 1, 2006 would lose it when their youngest child turned eight. They would go onto the much lower Newstart unemployment benefit, and be expected to look for work.
Partnered parents claiming the PPP would lose it when their youngest child turned six, but for them it made little difference because their parenting payment and Newstart were about the same.
For single parents it meant a significant cut in benefits at the time, and a harsher income test.
Those receiving PPS before July 1, 2006 were "grandfathered" meaning they could continue to receive it until their youngest child turned 16.
---

Read more:
Prejudiced policymaking underlies Labor's cuts to single parent payments


---
But in 2013, the Gillard government removed grandfathering, requiring all single parents with older children to be moved onto Newstart or other payments if eligible.
At that time the maximum rate of Parenting Payment Single was $331.85 per week. The maximum rate of Newstart was $266.50.
And a change introduced by Prime Minister Kevin Rudd made the parenting payments themselves less generous.
For many decades, the basic rate of payment for most single parents was the same as the pension.
In 2009 the Rudd government delinked them and lowered the wages benchmark so that PPS was set at 25% of male total average weekly earnings instead of 27.7%.
The 2009-10 Budget also changed the link between levels of the maximum rate of Family Tax Benefit Part A and the married rate of pension, a link originally established following the Hawke government's child poverty pledge.
These changes have shrunk Family Tax Benefit payments per child from 16.6% – 21.6% of the married pension rate to 14.5% – 18.9%, a difference now of $13 per week for each younger child and $17 per week for each older child – with more shrinkage to come.
In 2014 the first Abbott budget attempted to further wind back Family Tax Benefits.
After a tough time in the Senate, several of his measures finally passed, under Prime Minister Malcolm Turnbull in 2016 and 2017.
Family Tax Benefit B has been closed to couple families with children aged 13 years or older and the Family Tax Benefit B income test tightened, the size of the payments to large families has been wound back, the Family Tax benefit A end of year supplement has been withdrawn from families earning over A$80,000 per annum and rates have pay have been temporarily frozen, so that they don't even increase with inflation.
What's been the total of cuts since 2006?
The cumulative effects of the policy choices since 2006 on the disposable incomes of single parent families are substantial.
We have compared how much low-income parents currently receive, compared to what they would be receiving if these changes had not been made.
Our calculations are conservative.
We have ignored a number of changes including payments that have come and gone such as the Schoolkid's Bonus and the Energy Supplement or changes that affect high income families. Nor have we taken into account the loss of payments to families with with four or more children due to the phasing out of the Large Family Supplement from July 2016.
Single parents still on Parenting Payment Single with two younger children have lost nearly $85 per fortnight; about 6% of their disposable incomes. For families with older children, the loss is about $271 per fortnight; a cut in disposable income of nearly 19%.
---

Read more:
One in four children from single-parent families live in poverty


---
In total there are around 360,000 families with children, Australia's poorest, who are getting considerably less financial support.
It has happened as a result of actions by both sides of politics under prime ministers Howard, Rudd, Gillard, Abbott and Turnbull.
As with the decision to link Newstart to the consumer price index rather than wages, the effects of their decisions will widen over time. The poorest families, and their children, will increasingly fall behind the rest of the population.
This process is already strongly entrenched.
---

Read more:
Housing affordability stress affects one in nine households, but which ones are really struggling?


---
Research by Peter Saunders, Bruce Bradbury and Melissa Wong for the joint ACOSS-UNSW report on poverty finds that the transfer of 80,000 sole parents to Newstart in 2013 was associated with an increase in the rate of after-housing poverty among unemployed sole parents from 35% to nearly 60%.
Have the cuts got single parents into jobs?
The stated purpose of the cuts to Parenting Payment Single was to get them into jobs.
First impressions suggest that they have.
In 2005-06 51% of single parent households had social security benefits as their main source of income. A decade later this was 42%.
In 2005 around 49% of lone parent families with a youngest child under 15 were employed. By 2009 the proportion had grown to 59%.
But in both cases the changes started before the changes to benefits, from the middle of the 1990s.
---

Read more:
For single parents, it pays to work


---
And the proportion of single parents employed went backwards during the global financial crisis, sliding to 53% and only recovering to 55% in 2017, despite the move of families from Parenting Payment Single to Newstart.
It's time for a proper review
The "root and branch review" promised by Bill Shorten and the ongoing commission proposed by crossbenchers are not mutually exclusive.
An immediate review could be used to increase payments in the shorter term, while an ongoing commission could examine longer-term priorities.
---

Read more:
For richer or poorer: the delicate art of messing with middle class welfare


---
The scope of these inquiries should not be limited to Newstart.
Parenting Payments and Family Tax Benefits are also a fundamental component of the social safety net.
There is case for going further and examining the entire structure of the social security system.
The most comprehensive examination was the Henderson Poverty Inquiry commissioned by the McMahon government and extended by the Whitlam government more than four decades ago.
---

Read more:
Whitlam's forgotten legacy: a voice for the poor


---
A comprehensive review of Australia's social security system, undertaken in an integrated fashion and including tax as well as payments (including those for childcare and to support people who study and work) is overdue.
We need such a review to consider the design of our safety net in the light of economic, demographic, technological and social changes, and those to come.
It ought to be a key priority of Australia's next government.
It ought to set up our support systems for the future.

Peter Whiteford, Professor, Crawford School of Public Policy, Australian National University; Ben Phillips, Associate Professor, Centre for Social Research and Methods, Director, Centre for Economic Policy Research (CEPR), Australian National University; Bruce Bradbury, Associate Professor, Social Policy Research Centre, UNSW; David Stanton, Honorary Associate Professor, Crawford School of Public Policy, ANU, Australian National University; Matthew Gray, Director, ANU Centre for Social Research and Methods, Australian National University, and Miranda Stewart, Professor, Crawford School of Public Policy, Australian National University
This article is republished from The Conversation under a Creative Commons license. Read the original article.