James Cronin, Lancaster University
Nostalgia is now a key strategic consideration for business and retail. The marketisation of our fondness for a remembered past has stimulated the endless reboots of 1980s movie classics and children's television series, the remarketing of retro videogames and even the re-appreciation of vintage commercials.
Beyond providing us with emotional access to objects and things from our previous and personal "lived" experiences, there are also aspects of today's "retro revolution" that appeal to imagined experiences of a more distant past. This has been particularly evident in our desires to find inspiration when it comes to eating.
The BBC's Back in Time for Dinner and Back in Time for Christmas are examples of consumer curiosity to seek out, understand and rediscover forgotten ways of eating and drinking.
As we approach Christmas, it seems that our insatiable curiosity – and desire – for more real, more authentic, and more fun than even that which we are personally familiar with might mean looking past the Christmas dinner of our own memories to that of the ancestral memory instead.
Christmas dinner as the "real thing"
For many, the contemporary British Christmas dinner conjures up images of turkey, stuffing, roast potatoes, gravy, pigs in blankets, sprouts, pudding and, of course, the copious festive tubs of chocolates. The instantly recognisable blend of features of the Christmas dinner are so essential to the holiday experience that they have been appropriated by various businesses on the high street – whether it is Greggs' Festive Bakes, Subway's Festive Feast Sub or Pret A Manger's Christmas Lunch sandwiches.
The very special, moreish (and mass marketed) nature of the contemporary "taste of Christmas" echoes the work of psychoanalytic philosopher Slavoj Žižek on the dynamics of "surplus-enjoyment" and insatiable, bottomless desire.
It is conceivable that Christmas dinner has become for many, what Žižek might call, "the Real Thing".
It is not so much that the taste of Christmas dinner has become iconic, or that the food itself satisfies us like no other. It is what Christmas dinner represents – happiness, togetherness, material abundance. These are the "real" things which we can never have too much of and we are forever trying to fill ourselves up with.
As a consequence, people often find themselves always wanting more over the festive period. Ultimately, this insatiability culminates in the copiousness and lavishness of the Christmas Day feast. Though this often is not the end, thanks to the leftovers. And we are destined to recreate the feast without fail every year afterwards. Some might even wish that it could be Christmas every day, as it were.
The notion of a pure surplus of enjoyment surrounding Christmas dinner could mean that enjoyment of it is premised on a ceaseless quest to realise and quench abstract desires. While we might have everything and more right now for a great Christmas dinner, that is still never quite good enough.
Christmas feasting through the ages
The trappings of the modern Christmas dinner originate in Victorian England, between the birth of urban industrialisation and modern consumer culture. The prototype of what we eat now is captured in representations of the Cratchit family dinner in the Dickens classic, A Christmas Carol. Although Dickens did not himself conceive of what would become the modern Christmas dinner, authors such as Cathy Kaufman make it clear that "his story was a road map for middle and working-class pleasures at the precise moment when both meal structures and the nature of Christmas celebrations were changing."
The changes catalysed by the Victorians are not just seen in their foods of choice but also in accompaniments they introduced to the dinner table (the Christmas cracker,for example). They constructed Christmas dinner as a way of signifying conviviality, playfulness and community – a way of staging desire.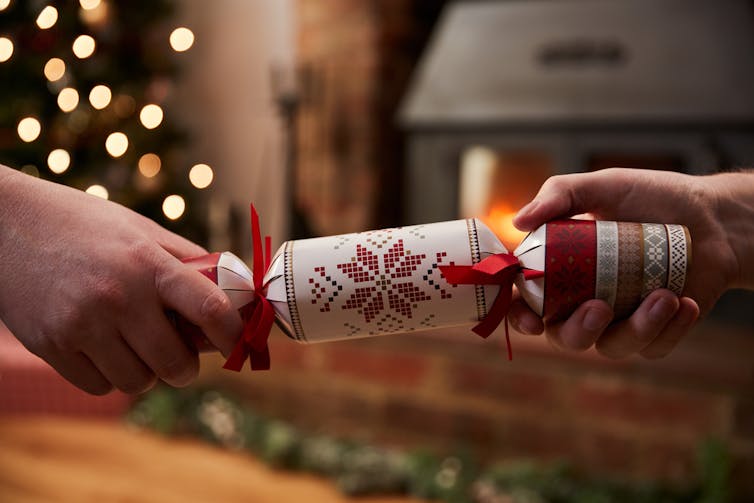 Before Victorian times, feasting at Christmas served a more raucous and crude means of breaking up the hardship and scarcity of the cold winter months. In the late Middle Ages and Tudor England for example, the feasting during Christmas time may have often been organised less elaborately around various pies, whatever game birds were in availability, or the meat of livestock that could not overwinter and needed to be culled. There may also have been a great divide between what the rich and the poor ate during Yuletide Feasting.
A new old desire
To tap into consumers' insatiable desire for more fun, more authentic and more real festive experiences The National Trust has promoted the opportunity to experience a historic Christmas where visitors can enjoy a period-specific "Tudor Christmas feast beside a roaring log fire".
Various businesses provide full-service catering based on authentic Victorian-themed food, tea carts and props – and a host of restaurants now offer "Victorian Christmas" menus and themed dining experiences. Elsewhere, the BBC and The Telegraph each provide DIY guides "to making your very own Victorian Christmas".
The taste of modern Christmas as we know it now certainly fills us up. But ultimately it never fully satisfies consumer desire. We forever want more and consumers might slowly be realising that this little bit extra might not be available to them in the present but rather lies buried in the past ready for excavation.
James Cronin, Lecturer in Marketing and Consumer Behaviour, Lancaster University
This article was originally published on The Conversation. Read the original article.